Life goes on...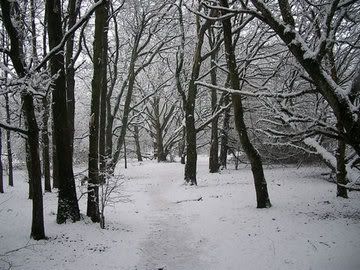 Hello, readers!
I'm feeling really great today, and after looking over my last post a bit, I'm a little embarrassed for spilling my guts about my breakup with Brittany in the manner I did.
See, last night I went for a long walk in one of my favourite wooded areas, and with only the sound of the snow crunching under my feet, I was able to clear my head and think.
Really
think. Usually when I walk through those woods, there are people with their dogs, couples jogging or kids tearing up the ground their with moutain bikes; but last night there was no one to be seen. I imagined I was the last person on the planet - that I was one with the wilderness. It made me consider doing like Thoreau did and just taking off to live in the forest. I could easily build myself a little house and just retreat from the world. I would grow what I needed to eat and simply
exist
. There would be no need for money, expensive possessions - none of it! Of course I realize that my parents would freak out and probably have me committed if I ever mentioned such an idea, so it will probably never become a reality. But you never know.
Anyway, while I was out there, the setting sun made the snow between the trees glow brilliantly. I just stood there, breathing the crisp air, trying to relax. And it was though a weight had been lifted.
As you can tell from the comments on my site (many of which I've had to delete), people don't take too kindly to my lifestyle. Sometimes I think they're envious of the tight bonds vegans and people who care about the earth have with another, and that putting us down will justify their gluttony. But I admit, a lot of the weight I carry is the obvious chip on my shoulder.
Sometimes I'm a quite vocal about my beliefs and I understand that people don't want to listen. It's just that after I became a vegan I felt as though my body had been cleansed. So when I see people stuffing their faces with say, Kentucky Fried Chicken, I feel as though I have a
medicine
of sorts that can
cure
them, you know? It's such a helpless feeling knowing that I can only convert so many, and that the rest will remain the way they are. I've visited the blogs of many other vegans who feel the same way as I do on this issue.
While I was out there in the woods, all of these thoughts were just bouncing around in my head. I was incredibly open-minded about issues of all kinds and was able to get over the loss of Brittany, my former girlfriend. I realized that a relationship has to have two equal parts, and that my part of our union obviously outweighed hers, cauing her to feel like a prisoner or something. I have accepted this and feel really great about letting her go.
As it got dark, I walked home and went to bed. It was one of the best sleeps I have had in years!
Today at the campus bar where I work, nothing could bother me. I smiled at the customers and didn't even care when they ordered items with meat on them from the menu. Well, I cared... but I didn't show it outwardly.
I leave you now with a poem of Robert Frost's:
Stopping By Woods on a Snowy EveningWhose woods these are I think I know.His house is in the village though;He will not see me stopping hereTo watch his woods fill up with snow.My little horse must think it queerTo stop without a farmhouse nearBetween the woods and frozen lakeThe darkest evening of the year.He gives his harness bells a shakeTo ask if there is some mistake.The only other sound's the sweepOf easy wind and downy flake.The woods are lovely, dark and deep.But I have promises to keep,And miles to go before I sleep,And miles to go before I sleep.