Meat-Eating Scum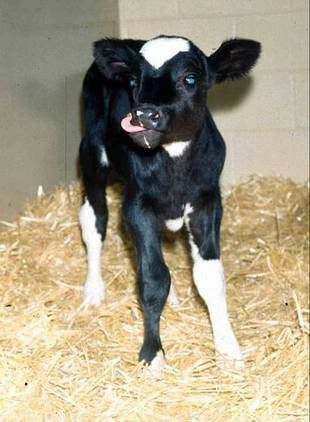 See that picture? It's an adorable little calf. Mother Nature's blueprint for cuteness. And yet
some
people will look at that picture and salivate, not thinking of the happy life that little creature could be living in a green pasture, but how many steaks it would make! I don't know why people think this way, but they do.
As I have mentioned before, I strongly believe that animals should not be exploited by humans. We have progressed so far technologically, yet we still revert back to our primitive, hunter-gatherer days when it comes to our diets. It's absurd! With so many alternative foods available to us, why must we continue to make these creatures suffer?
I don't plan on going on and on with my animal rights beliefs (as it may seem like I do sometimes) but sometimes I've just got to get this stuff off my chest, you know?
Vegetables
- this is a food source that can be constantly replenished, and no one need die for that to happen! You just need a patch of land .Pumpkins, for instance, make excellent pies and delight children at Halloween when they're made into Jack-O-Lanterns! Carrots! They improve your eyesight and can be chopped up into oh so many bite-sized, snackable pieces! I'm telling you, the options are limitless!
Flesh? That's just dead flesh, people. It's caveman food. It's barbaric and it's leading us down a road to destruction. It hate to think about all the species that have been killed off by humans on this planet; and although our more popular "edible animals" like the chicken, cow, pig and lamb will likely be around for a long time to come, I almost wish death on the poor things, since life as they know it is perpetual suffering!
There's always this argument, of course: "Hey, what are you talking about, you veggie-loving fool? Even if you replaced all animal grazing land with vegetables, you'd still have pests like rabbits and gophers and mice and all sorts of bugs to contend with!"
Typical. The fact is, people, rabbits and gophers and other so-called "pests" couldn't possibly destroy entire crops if those who tend to them plant enough. There's a natural balance in nature that only people like socialists can understand. You see, these animals are not capitalists like most humans -- they take what they need, and nothing more. If their population gets out of control, it adjusts thanks to
natural
predators, which allow for a balance.
I'm sick of living in a world where
this
goes on: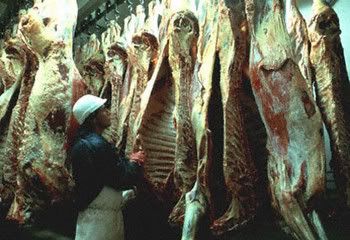 That's all for now.
-Preston