Banned from the Vegan Freaks Forum --- Again!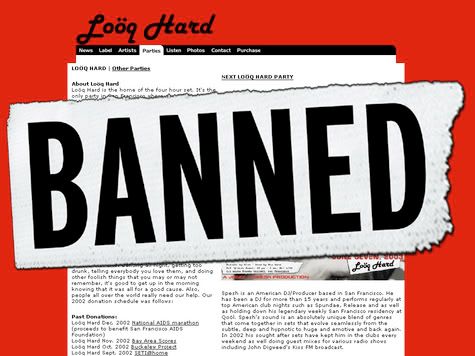 Hello, my fellow vegans (and meat-eating stalkers).
Today I registered yet again on the Vegan Freak message board. I just wanted to see what they'd do, you know? I figured that if I wasn't verbally abusive towards anyone, they'd be okay with me being there. "Don't forget, Preston," I said to myself. "These people are among the most open-minded people on the internet!"
So I registered on a different computer using a different e-mail address. All I needed was a new username that wouldn't arouse too much suspicion. After a few minutes, I thought of one --
Preston II
. It was
perfect!
So, like the last time I registered, my first post was in the "Introductions" forum. I whipped up a message saying that I was excited to be a member of their site and how I was looking forward to getting to know everybody. Of course, I provided a link to my blog and then clicked "submit."
"What a cheery post, Preston!" I said to myself. "They'd have to be real jerks to kick you out for being cheery, wouldn't they?" (Yes, I talk to myself. So what?)
And sure enough, I was banned within minutes for doing absolutely nothing wrong on the forum -- just as before.
Reason: Go away, Preston.Date the ban will be lifted: Never.
I can't get over how stupid these people are. I can understand why they'd want to ban guys like Meatloverskillet or Argus, who might register on a site like that simply to tell everyone off -- but what did I do? Honestly!? I went on that site and had the
audacity
to suggest that the canines in our jaws were meant for meat! Oh my god!! You should have seen how they reacted! They didn't even entertain the possibility! (Pfft. "Possibility.")
In case you didn't read my post the
last
time they banned me, the reason they gave was, "Don't talk shit about us and expect to be welcome here." My "shit talking" was the title of a post here: "Preston Educates some (stupid) Vegans." OoOoooOoh!! How offensive! Ban that guy! BAN HIM!!!
You know what, Vegan Freaks? You're a bunch of fucking retards! I'm going to keep coming back to your forum, and there's nothing you can do to stop me!
Ha ha ha ha!
Want to ban me? Go ahead! I'll just register again and again, and I'll get others to do the same! In fact, you had better start selling canned meat or something, because it's going to be Spam-central unless you reconsider banning me! FASCISTS!!
I'm also working on a nice little comic about this situation. I'm sure you will all enjoy it, since I'm featured prominently in it. Oh and what I do is... comical! Haw haw haw haw haw!! Get it? Comic? Comical?
Okay, that's it for now.
- Preston out