Circumcision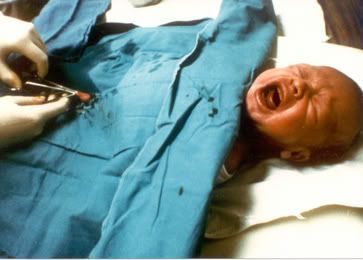 Liz, a co-worker of mine (and fellow Vegan), is six months pregnant with her first child. She recently took her maternity leave, but earlier today she came into work and showed off a few pictures from the ultrasound she recently had. She's having a boy.
Josh, a douchebag who recently started work in the kitchen, immedietely started making inappropriate comments.
"I've heard of parents who take a lot of pictures of their kids, but this is ridiculous!" he said, cackling at his own dumb joke. Then, leaning in and wincing at the picture he said, "Hey--is that his
dick
?!"
Whoever performed the ultrasound had circled the baby's genitals on the print. Liz had been eager to know the child's sex and was apparently told during a previous ultrasound that she was
likely
to have a boy, but this time it was a certainty.
"
Hey-hey!
'Little dude's gonna be a hit with the ladies with
that
thing!" Josh went on. (Apparently he thought the prenatal child's member was impressive. I wonder what Josh is packing?)
"Well, it'll probably be a
tiny
bit smaller once he's circumcised," said Liz.
What!?
No, I didn't say that. I just recoiled in silence. I just
couldn't believe
that Liz, someone who has been a close friend for nearly
two years
now, was going to mutilate her own
child.
I thought I knew her, but I guess I was wrong. Very wrong.
I mean, we both obviously agree that exploiting animals for aesthetic purposes is morally wrong; so why then is she planning on welcoming her child to this earth with a torturous procedure which is just that --- purely aesthetic, and rooted in thousands of years of patriarchal, nonsensical religious tradition!
People in favor of circumcision don't really have many good arguments for it, either. Most of their time is spent denying the (lenghty) list of extremely valid arguments we sensible people have about the operation.
Oh, and I guess I'm obliged to mention that
I
was circumcised as an infant. Thanks a lot, Mom. Thanks a lot, Dad. Technically, I guess that makes me "less" of a man, since I was robbed (and I
do
consider it a robbery, since I was given no choice in the matter) of a body part all males are born with.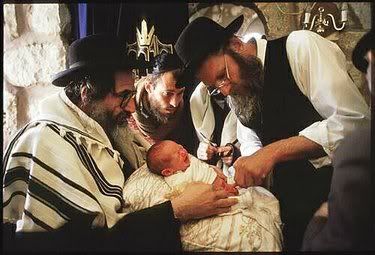 I admit, I've never felt as though I was
missing
anything; but a child who is born without sight, hearing, and yes, even limbs, knows no other reality. But I'm certain they ask themselves the "what if?" questions, as I do when I consider my missing foreskin.
The main claims "Circumnazis" make is that the glans area, when covered by the foreskin, is a breeding ground for bacteria and potential infection. Yeah, right. I read that 50% of North American children are now dodging the knife at birth -- I guess that means we're going to be seeing every other male itching at his raw, fly-attracting groin in the coming years, hmm? Unlikely.
Penile cancer is allegedly a greater risk for the un-circumcised. Yet another lie!
Here's the bottom line: we're born the foreskin and should leave it intact. Don't subject your newborn children to such a gruesome practice. If they want to get a circumcision, it should be law that they willingly have it done on their own. And in these cases, it should be done as it was done originally: with no anisthetic. Ha! Let's see how many guys line up to have it done when they have to have it sliced from them while they are awake.
Just as many people believe animals feel no pain because they lack the ability to speak, the same can be said of those who are ignorant of an infant's pain during circumcision. But have a good look at the pictures I've posted -- do these babies look like they're enjoying themselves? Of course they don't.
-Preston