Help Shut Down "Bonsai Kitten"
Another update. Read on -- this one's important.
A good Vegan friend of mine just forwarded me an email she received from her Women's Studies TA. In the letter (which is actually a petition, by the way), there is a link to a website called
www.bonsaikitten.com
.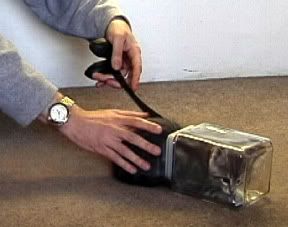 The title sounds cute, I know -- but when I actually checked it out, I was disgusted.
Basically, the site's creator is a guy from New York City who is torturing kittens by cramming them into containers in order to disfigure their "rubbery" young skeletons. What's even worse is that he's planning on selling all the equipment one needs to perform this torture on his site! I mean, doing this to innocent creatures is bad enough, but the fact he's broadcasting this shit to the world in an attempt to turn a profit? Fuck, man -- I'm sorry, but I'm not going to stand for that. I hope you won't, either.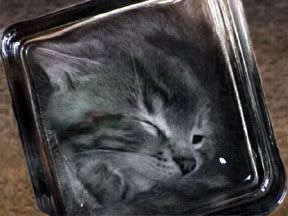 The equipment he lists includes a variety of things, such as: "containment vessels" (just cheap glass jars you'd store flour in, or something); muscle relaxants to enable the insertion of the feeding tube, which is essential to keep the cat alive in its container; super glue to keep the animal in one place once in the jar; drills for making the air holes -- some fucking sick stuff.
I'm pleading with anyone who reads this to either e-mail the creator of this site at
webmeowster@bonsaikitten.com
and demand he shut it down, or, if you have come across the e-mail petition I mentioned, to please put your name on it. If we can rally enough people together on this, maybe getting some media attention or something, people are going to take notice and put this guy in jail. I don't know how he isn't already.
-Preston.