I am the only Intelligent Vegan / My Dog is Dead
As one of the cowardly "anonymous" fucks from the Vegan Freaks message board indicated in the 'comments' section on my last post, I have been banished from their site. This was the error I received when I attempted to log in:
vBulletin messageYou have been banned for the following reason:Don't talk shit about us and expect to be
welcome here.
http://thelifeofpreston.blogspot.com/2006/03/preston-educates-some-stupid-vegans.html
Date the ban will be lifted: Never
It made me laugh when I saw it. Especially that last bit! The rigid inflexibility of NEVER reminded me of my debate with them -- how they were so unwilling to accept the truth. But the truth hurts, as they say.
But I'll tell you, I'm also hurting pretty badly right now. No, not because of the board fiasco; I could care less about that. And no, not because of my ex-girlfriend, Brittany.
My Dog, Marx, died last night.
When I got home from class, my Mom had this sad look on her face and she told me to sit down at the table. I knew something was wrong. I kind of pieced it together in my head before she even said anything, actually, because I saw Marx's worn red collar in her hand.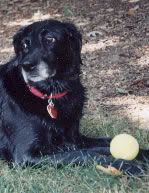 She told me that a couple of hours earlier she had heard Marx wimpering outside. (We have quite a large property and the dog has always been allowed to run around without a leash, since he always knew to stay clear of the road.) When she found him on the back porch, he was bleeding and could barely walk. She said it looked as though several of his ribs had been broken. When my Dad was told of Marx's condition, he took off his collar and drove him to the vet, where he had him "humanely put to sleep." There is no fucking way what happened to my dog can be called "humane" -- he was only seven, and I should have had many more years with him. I'm so mad I didn't get the chance to say goodbye.
I know for certain that he wasn't hit by a car. He never went near the road. I know what happened, because I saw something similar to this with my own eyes before. Marx would often go into our neighbor's yard and tear around. The bastard next door would always threaten that he was going to shoot Marx one day, but I never saw him with a gun. I did see him repeatedly kick him once, though, and I'm certain he did it again, only much more viciously, since he was apparently in very bad shape.
My fucking Dad didn't even bring Marx's body home so I could bury him. The vet probably just tossed him in their dumpster like garbage. It makes me want to throw up. Actually, it makes me fucking furious, and although I have no proof, I want to get back at my fucking neighbor. That fucker murdered my fucking dog! Actually, the vet is technically the one who killed him, and my Dad is the one who gave him the order... but that fucking neighbor is the cause of this.
I don't understand why he hated Marx so much, either. I mean, he'd shit at the very
back
of the guy's lawn from time to time, but the guy's never even out there to use his yard! Even in the summer, he just lets the grass grow long and never cuts it. All he ever does is go out to the back porch to smoke cigarettes and barbeque. I swear, the fucker's out there like, every night, polluting the air with the smell of cooking flesh. There's got to be some sort of by-law against that.
I'm so angry I can barely type. I'll report back to you on this matter.