Preston Educates some (stupid) Vegans
If you are a vegan in want of vegan discussion, I suggest you avoid the
Vegan Freak Forums
. (Why am I linking you to them after telling you to avoid them?)
I myself am a vegan who is quite set in his ways, but after several hours of discussion (read: defending myself on all fronts from their army of thick-headed morons) I now understand that I, Preston LaForge, am actually more of a vegan moderate. (I know! I was shocked, too!)
Here's the summary of the topic I was responding to: this woman ("Kelley") invited a bunch of her meat-eating friends over for a vegan dinner. One wanted to bring a piece of chicken, claiming that she suffered from headaches or something when she didn't eat meat. I'd probably be ticked off if someone wanted to bring a piece of chicken to a vegan dinner I was arranging (actually, I
definitely
would), but seeing as how she had the chance to potentially convert these people to her more sensible diet, I suggested that she overlook the chicken instead of "uninviting" her, as literally
everyone
in the four of discussion said before I submitted anything to say.
Later on, the argument divides in two ways: the first deals with a comment I made about an attractive female poster. "My, you're an attractive young lady," were my exact words, I believe. Turns out I was "objectifying" her. Who knew?
I also engaged in a debate with them over whether humans were originally meant to eat meat or not. I claimed that we were (duh!). I may be stubborn about some vegan issues, but come on -- I'm not thick-headed enough to suggest that the incisors we have are for, I dunno, opening packages of tofu or something! Astonishingly, these people seem to actually believe what they're saying and say that the idea early humans
had
to eat meat is just a "theory" -- an "opinion."
Well, in the following excerpts you can read all!
Preston = Red
Others = Blue
Preston Post #1:
I don't see how this is a big deal, frankly.
You've invited a bunch of your meat-eating friends to your dinner party, where you, the vegan, are the minority. Each is likely wary of your diet, but consented to the idea, anyway -- likely in the interest of friendship, which already transcends your different lifestyles.
One of them, however, wants to bring a piece of chicken, citing health concerns as her reason. You stated that she is allergic to everything under the sun, so calling this a bluff might not be such a good idea. Who are you to know how her body reacts to different foods? According to the email, she's not asking you to pluck, gut and cook the chicken; she just wants to bring a piece and eat it with the rest of the meal you're preparing.
First ask yourself what the goal of your dinner is. If you're trying to show your friends that veganism can be healthy and enjoyable, how do you think they're going to react when they find out you "uninvited" someone because they wanted to bring a morcel of chicken? If you ask me, that would be pretty shallow of you, since, a) you know she's going to eat the chicken, anyway (if she were to abide by your "eat it before you come" suggestion, that is); and b) these people have already accepted your olive branch, and realistically, how is her bringing a piece of chicken going to take away from anything? Will you be asking them to leave wool sweaters and leather belts on the lawn, too?
Admittedly, I'm usually quite vocal about my vegan diet, and can be somewhat less-than-diplomatic about it from time to time. But in my opinion, you're going to be an ambassador for veganism during your dinner, and punishing one of them just might be a sure-fire way to leave a bad taste in the mouths of the others.
Post #2:
Response to Paisley:My, you are an attractive young lady.
(Directed at a girl who had a cute avatar.)
Post #3
: (Replying to those who said the blue quotations)
Veganfreak said: This is not really an appropriate response in this forum, Preston.
(My "You are an attractive young lady" post)
Paisley may or may not be flattered -- I have no idea. Regardless, she has every right to be here as something more than an object of your attraction.
Well, you'll be happy to know that she sent me a private message in appreciation of my comment. But you're right -- that sort of talk doesn't really jive with this forum; though something tells me you probably wouldn't have felt the need to mention "objectification" had it been a female commenting on a male's picture.
Veganfreak said: I wouldn't let someone get away with racism or sexism in my house, so I'm not so sure why speciesism is okay.
Vegans like you and I have the moral high ground when it comes to our stance on the horrid treatment of animals, but human beings, whether you admit to it or not, evolved and are designed to have meat in their diets. Those sharp, pointy teeth in the front of the mouth (incisors) are the body's natural steak knives.
Racism and sexism, incidentally, are not innate, so it doesn't exactly make for a good comparison to the consumption of meat, which will undoubtedly continue to be more acceptable in most societies. But as someone else mentioned: your house, your rules.
Kelley Said: The purpose of the dinner - aside from socializing - is to show my "omni" friends how great vegan meals can be. She would undermine that by bringing the chicken.
Oh, I totally understand your moral reasons for not wanting the meat in your home (and as you mentioned, the dinner was conceived as a vegan feast from the get-go). I just don't understand your belief that one omni guest's possession of chicken could keep the other omnis from seeing "how great vegan meals can be." From the sounds of it, your chicken-loving friend only wants to bring a single piece for herself.
I believe that if your friend (assuming her invitation is honored) were to bring the chicken along, she would not ruin the other guest's vegan meals, but rather your vision of how the dinner would unfold. You said that you "wouldn't get your panties in a bunch" if the meal hadn't been deemed a strictly vegan event --- I can understand that. I would be annoyed if a friend of mine wanted to bring meat to a vegan meal I was preparing. However, if I thought things might get a little ugly, say with email debates or having to uninvite the invited, I would probably swallow my pride for the good of the group.
But hey, just ignore me if you want to, Kelley. I'm just tossing a few opinions your way.
Some guy name Redman's post to me:
I'd like to think that you really read the original post and all the follow ups before making your first post in my thread, and you probably did. Maybe you just enjoy being in the minority or needed to make sure Kelley looked at both sides of it. But we are all here to offer our opinions, and thats all they will be here, is only opinions, so continuing to post in a thread in a disagreeable manner (whether you realize it or not) with a thread jacking comment like :
"Vegans like you and I have the moral high ground when it comes to our stance on the horrid treatment of animals, but human beings, whether you admit to it or not, evolved and are designed to have meat in their diets. Those sharp, pointy teeth in the front of the mouth (incisors) are the body's natural steak knives."
This is a completely separate debate, and it is as you say, whether you admit it or not, an opinion of yours. Many here do not agree with this statement, and ultimately it has nothing to do with this thread.Not to rag too hard Preston, just PLEASE, make sure before you post again, that it is not out of some urgency to "prove yourself" or "win the argument". Youve really expressed your opinion quite well, anything else may be seen as inappropriate.
My Replies:
Redman said: I'd like to think that you really read the original post and all the follow ups before making your first post in my thread, and you probably did.
You're right, I did.
Maybe you just enjoy being in the minority or needed to make sure Kelley looked at both sides of it...
The latter.
But we are all here to offer our opinions, and thats all they will be here, is only opinions, so continuing to post in a thread in a disagreeable manner...with a thread jacking comment...
Woah, not so fast, there, Redman!
You just stated that we are all here to offer our opinions, so as long as I'm doing that, your "taking me aside" to explain how it's done here is the only "thread-jacking comment."
I would like to think that you read all the replies in this topic, and if you had, you would have seen Veganfreak's reply to my original post, where he compared sexism and racism to speciesism (meat-eating). In my direct reply to that comment, I stated that because sexism and racism are learned behaviors and meat-eating is not (the vast majority of us learned to not eat meat), it was not the "best comparison."
So whether you or anyone else disagrees with my air-tight argument is inconsequential. (Every human's skull, the world over, is equipped with teeth that evolved for the purpose of eating not only meat, but grains and vegetables. It's biology and it's fact. I'm sorry, but it is. We vegans realize, of course, that people no longer have to consume animals, but arguing that we never had to is both ignorant and futile.)
Let me now show you a few of the buzz words and phrases that stuck out for me in your post: "Maybe you just enjoy being in the minority... disagreeable manner... thread jacking comment... many here do not agree... make sure before you post again... be seen as inappropriate..."
After reading literally every other "Uninvite her! Hissss!" response in this thread, I took it upon myself to suggest another option. Kelley, the original author of the topic, has been politely discussing that suggestion with me, but here you are, going off topic yourself, basically ordering me to fall into line with everyone else after expressing an opinion (which you said we're all here to do, remember?) that you considered dissenting.
Check yourself, pal. You've made me recollect a comment of Henry Ford's: "[On his vehicles] You can have any color you want, as long as it's black."
- Preston
Cocokate said: Specieism is not simply "meat-eating behaviour".
Did you listen to the Melanie Joy interview? It is indeed an ideology, one that sanctions discrimination among species of animals, and in that regard, I don't see how it is so different (in form) from racism/sexism. Kelley's friend does display speciesist tendencies, as I'm sure she doesn't eat horse or dog flesh, etc.
Can you point me to an unbiased source to prove your point about teeth? I'm an anthropology student, and I've come across evidence for points of view. I've also come across professors who start from the unabashed carnist position and look for evidence to defend their lifestyles (these folks are usually leftists and animal welfarists too) and, admittedly far fewer, vegetarians who do the same from the vegetarian point of view.
Also, I don't think that anyone suggested Kelley be rude about "disinviting" her friend. I'm sure she has the social tact to preserve the peace and her friendship with this woman while being true to her principles. In fact, I'd say she has the responsibility to do just that. As vegans, I thought we were supposed to start from the premise that the bodies of animals are not ours to exploit--to eat, to wear, etc. By allowing her friend to bring the piece of chicken, she cannot in good faith demonstrate that premise to the others.
PS. I also agree that this woman needs help and could really benefit from some solid nutrition information, if she is open to receiving it.
Actually, no, I haven't heard that interview of Melanie Joy's, but I would very much enjoy a link to it, if one is available.
I doubt I could point to an "unbiased" source to prove my point about the teeth, and I'm afraid you would have even more difficulty doing the same for your position. Each side is automatically going to view the other as biased, no matter how neutral the source attempts to be.
That said, I ask you, anthropology student, to look at the following two pictures: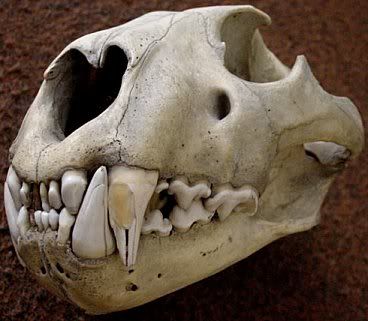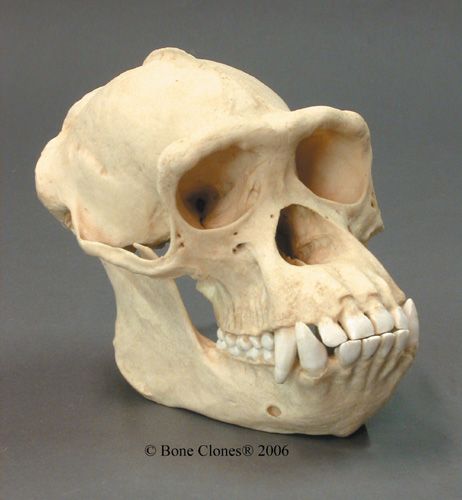 The first is the skull of a lion, Africa's top carnivore; the second is that of chimpanzee, man's closest primate relative (I don't think we have too many Creationists here, do we?) Note the obvious similarities. We know what the lion's teeth are designed for, as we have all seen them take down their pray on the Discovery channel; and I'm sure you've seen chimpanzee documentaries too, right? Well, if you have, you'll know that for all the fruit, leaves and hard nuts they much on (that's why the rear of the jaw is so pronounced), they also consume large quantities of meat, including the stolen kills from other predators and small monkeys they themselves have hunted down. These carnivorous traits explain why the incisors of these two animals are so alike.
Now I ask you, all bias aside, to run your tongue across the sharp points of your incisors. I know you and the rest of us here don't use them for tearing at meat now, but they are in our jaws because of evolutionary necessity. Before our hunter-gatherer ancestors (who were in fact prey to large animals themselves and then quite low on the food chain) harnessed the ability to farm produce, their only chance for survival was to eat meat -- this is why they had the incisors and why they are still in your mouth.
This doesn't mean that you, myself, or anyone else today has to eat meat these days, but I'm genuinely baffled as to why anyone would try and argue against its past value. The evidence is incredibly overwhelming.
- Preston
Vegan Vulcan said: Are you serious? Do you honestly think that someone who flat out told (not asked) the host of a dinner she would be bringing chicken would be at all be polite or circumspect when bringing an alternative to a vegan meal?
No, I don't think it's "polite or circumspect." In fact, if you look back at my post, I said that I would be quite annoyed if someone were to try and do the same at a vegan dinner I was preparing.
I think it's pretty evident that this person would most definately not keep quiet about her. . . unique. . . nutritional beliefs. It seems, from her own language, that she would most likely make a point of informing other diners of her "need" for chicken.
"Evident"? "Definitely"? Hmm, I don't think so. Possible? Likely? Those are the words I'd use, since you are divining conclusions here, by assuming you know how the woman is going to behave. Also, considering that the other guests are omnivores themselves, do you really think any clucking on the woman's part over her love for chicken is going to make a difference for the other guests? They already eat meat, after all, and certainly have their own pre-ordained opinions about poultry. Again, as tactless and rude it is of this lady to say that she is going to be bringing a piece of chicken, I highly doubt its presence at Kelley's house would affect the other guets, but it would most certainly make Kelley's nerves all the more "rocky."
How will she act at the dinner itself? It seems that she would like nothing more than to take the focus off of veganism and put it onto herself and her carnivorous beliefs.
You can only assume, I'm afraid. I think allowing the woman to do as she originally planned is the only way to get your answer.
I'm really surprised about your response to all of this. In fact, on your blog, you mentioned that you "don't believe in showing restraint when it comes to [your] firm beliefs." From your statements, it seems that you're holding Kelley to a different standard than yourself. She has chosen to take direct action, which I respect. Sure, she could let it go and then just bitch about it afterwards, but she's standing up! I respect that immensely.
You're right; normally I'm quite firm about this sort of thing. Maybe I'd react differently if this were my situation -- you never know. But considering that she has a bevy of potential converts at hand, I wonder what kind of effect ostracizing one of them will have on the rest? Maybe it will have none? Maybe Kelley doesn't care either way? But judging by her posts about being more lax under different circumstances, maybe she's being too harsh? Again, it doesn't matter to me either way, I'm just playing Devil's Advocate.
I would have found it offensive if you had wolf-whistled at a man or a woman on these forums, and if VeganFreak hadn't called you out on it, I would have. I was incredibly offended by your objectification of her.
I find it startling that my tame compliment offended you so "incredibly." It may not have had a place in this particular discussion, but if something like "My, you are an attractive young lady" offends you that much, I'm sorry to say that you have some pent up (and likely unhealthy) attitudes towards men. I notice you dodged (or misinterpreted) my suggestion that if it had been a woman who had found a man's picture attractive, she probably wouldn't have had people "calling her on it."
(Vegan Vulcan, after realizing the full wrath of my debating skills, exited the debate at this point, saying,
"Whatever, Preston! I'm so over your posts about this!"
What a loser. Oops - she visits this blog from time to to time. Oh well, she knows I totally owned her -- and everyone else -- in that thread. )
Cocokate said: Vegan Vulcan has an "unhealthy attitude toward men" because she is offended by the objectification of women? In that case, I do too. Thanks for letting me know. (this is my last hijack of this thread, I swear.)
If complimenting on the attractiveness of an image that is very much on display is so "objectifying," I shudder to think of all the other offensive scenarios you and vegan vulcan could dream up. Is a man who politely asks a woman on a date with romantic intentions in mind "objectifying" her? He obviously regards her attractive in some way -- he's just not overtly saying it, which wouldn't be offensive or objectionable at all, in my opinion. At the same time, would a woman who asked a man out be objectifying him? Of course not.
And you're right -- I don't know if Veganfreak is guilty of a double-standard on this one; but seeing as how so many other people I've met are and judging by the response I'm getting from the rest of you, I'd say I'd bet money that I'm right about my different scenario. But again, we'll never have an answer to that.
Daphne1d said: I beg your pardon, but do you know Vegan Vulcan? That was an extremely rude thing to say, not to mention patronizing.I found your initial remark to Paisley dismissive and patronizing as well, I don't care if she didn't mind. And I assure you I don't have issues with men. I have to wonder about YOUR issues with women, however.I find your advice to Kelley rather contradictory and baffling. As for your evidence about our teeth being 'steak knives' how's about you walk out into a field and take down a cow with those bad boys, and then we'll talk about whether or not humans were designed to eat meat.Ok, now I'm being rude, but I am just blown away by your comments in the post, and I too think you're just here to start pointless arguments. If I want that, I can do that with my co-workers and get paid for my troubles
This is a picture of a cow's skull. (By the way, I'm shocked you would advocate the murder of one of them.)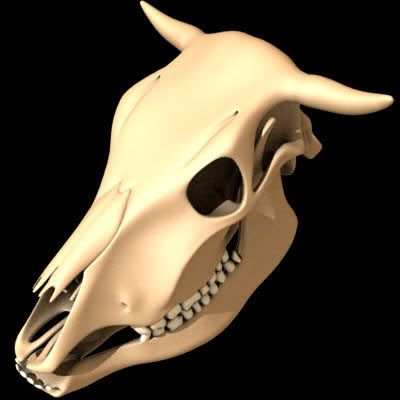 Note the teeth: very flat - designed solely for chewing grass other plant life. They are natural herbivores (ignore the meat that is unnaturally fed to them and causes mad cow disease, of course). If you were asking whether a human could bite a cow to death, of course that's quite impossible...actually, it could probably happen if several people swarmed the cow like a pack of hyenas or something.
But anyway, your argument is weak (as were the others I'm not responding to). Humans have never hunted animals using their teeth as weapons, like lions. Sorry. They were, however, intended to be omnivores, much like our friend the chimpanzee on the previous page. That's it, this time. I swear. Shame on you for bringing me back into this! Ha.