Sunday, Bloody Sunday
You want to hear about a Sunday night dinner that's really fucked up?
Well, late last week, probably around thursday or friday, Jason, a vegetarian buddy of mine from work, invited me over to his place for a beer and some of his "veggie fajitas." He suggested Sunday (yes, it's the present Sunday I'm talking about here). I said sure.
Jason refers to himself as a "vegetarian in transition" -- says he's going vegan "real soon." Shit, the tool's been saying that for months! I can't comprehend how some people are sympathetic enough to become vegetarians, but find the leap to vegandom so unthinkable. Honestly, does that make any sense to you? You can't meet compassion half way, man - you either have it or you don't! If you're trying to beat
alcoholism
, you can't allow yourself a beer now and then -- not even if you're thirsty with nothing else to drink! Same fuckin' situation -- if you care about
animals
, you don't
exploit
them! Fuck!
And what's so difficult about cutting all animal products from your diet, anyhow? You just...
stop!
I chide Jason for his cruelty whenever I see him drinking a carton of milk at work. For some reason he thinks that just because dairy cows don't die when their milk is taken, it's not as bad as eating meat. It
is
just as bad.
But aside from that, he's a cool guy. He said he wanted to kick my ass playing table tennis on his vintage
Pong!
system from the Seventies. This mono-purpose system was the centre of existence for our primitive, gamer ancestors. And hey, what
would
that have been like back then?
"Hey dude, you want to come over this weekend and chill? We'll have a video game showdown, man! Whadda ya say?"
"Sure! What games do you have?"
"....that's not even funny, man. You know there's only
one
video game."
Weird!
Oh, and Jason? He had no idea what he was getting himself into. Preston's the fuckin'
Pong Masssstuh! Wa-zzzzowwww
! *Roundhouse kick* (If it's not obvious to you, I'm really stoned right now, so excuse my passion for... you know... pretty much everything?)
What was I saying? Ah yes -- I was
about
to tell you of what happened when I went to Jason's.
Well, I got to his place and was surprised to see that someone else was in the apartment. Jason's older brother, Steve, visiting from Ohio. Steve "drives truck" and often stops by Jason's place whenever he has a big enough gap in his schedule for a visit.
I had met the guy once before and that had been enough. A total asshole. You know the kind:
The Rangers are totally winning the fuckin' Stanley Cup this year!Hey man, listen--listen... why do all brides wear white? So the stove matches the dishwasher! Wa ha ha! *Slaps your back*There's nothin' better than hiking in woods, your rifle on your shoulder, a flask of whiskey on your hip, and seeing the broad side of a ten-point buck at fifty yards -- chiuck-chiuck! ... KABLAM!! Woo! Fresh meat! *Maybe another slap to the back?*
You get the idea. Basically, your average (loathsome) male. Why do they still think this way? I'm serious, if everyone thought as we vegans do, we would have a modern Utopia. (And hold your "Yeah, a
Fruit
opia!" jokes, you stupid fucks. Yeah, that's right -- a mere
sample
of how much further ahead of you I am, both morally and intellectually --
Sha-zowwww! *Fury of punches!*
)
Like Jason, Steve was just getting ready to eat dinner. No, none of the planned Veggie-Fajitas for him. He had a
different
meal on the go. A revolting steak, baked potato, asparagus and red pepper, all covered in sauteed mushrooms. And even the
vegetables
disgusted me, since he had slathered them with several cubes of fatty, disgusting butter. I seriously gag thinking about it.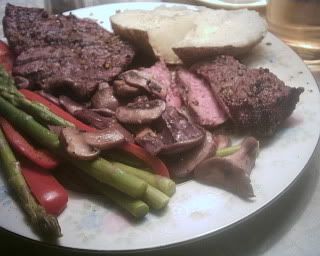 *Puke!*
I held my tongue as Jason and told me to take a seat. "The fajitas are almost ready!" he said.
My manners with Steve probably could have been better. I wasn't exactly enthusiastic while engaging in the chit chat one must evidently engage in when meeting with someone you haven't seen in a while.
"Preston! Good to see ya, bud!"
"
So
good to see you too, Steve -- too long, man...
too long
"
Whatever. The fucker was clearly too focused on the meal he was about to be eating to detect any sarcasm in my voice. Hell, with his turd nugget brain, he's unlikely to understand subtle inflections in the the human voice. Shouting is different, of course. Yelling and boasting about inane things is a trademark of these jackasses.
"Giv'er!!"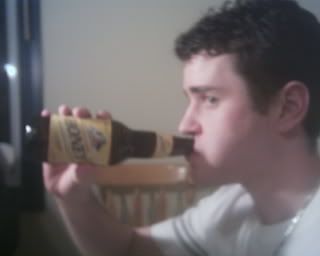 Left to right: beer, Jason.
But seriously, despite the anger I felt towards the meal Steve was eating, I considered my host's generous hospitality and decided it was best to avoid any verbal conflict.
...
Almost had you there, didn't I? Of course that didn't happen. Here's how I lost it:
The first thing I did, you'll be pleased to know, is think of you, my intelligent vegan readers! I wanted to document the gluttony I was witnessing so you would have no difficulty understanding my actions. I produced the digital camera I always keep stored in my hemp carry-all and began snapping pictures. Steve started making a big show of eating his "fuckin' gorgeous" steak for the lens. You have no idea how close I came to punching him. But I managed a bit of restraint.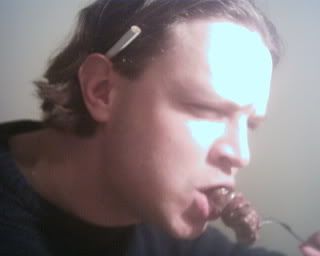 Simply appalling.
I had no appetite, of course, so the steaming fajitas sat on my plate getting cold. Jason asked me what was the matter, but I didn't respond. He paid no mind, though, and kept on with his fajitas and beer. With the little photo session over, I couldn't keep from staring at trucker boy, who noisily chewing the flesh of an innocent creature right in front of me. I knew I would have to leave. And I knew I had to
say
something.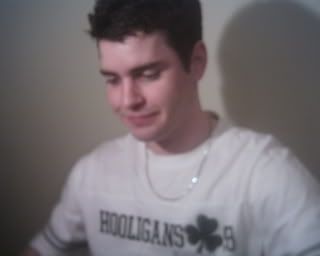 Jason, circa pre-rant
"Do you have any idea how repulsive that meal of yours is to me?" I asked, tossing my knife and fork to the plate in front of me with a clatter.
It got Steve's attention, all right. I'll spare you his boneheaded omni defense and just tell you the evening's end result -- me leaving the place with an empty stomach after cursing dumb butcher up and down. I just can't be in closed quarters with guys like that, I'm sorry. I know Jason'll probably be pissed at me when we see one another at work, but he'll get over it.
Thank fuck I'm at home now with the organic vegetable platter I prepared the other night.
-Preston
Update:
http://luvbeef.blogspot.com/
Seeing this kind of retaliation from meat eaters is so typical. The guy didn't even have a blog when he started posting on mine, but I guess he got a surge of creativity all of a sudden.
Why should I be friendly to them when they continue to treat
me
like this? Fuck.