My Snake, Tre, Sends his Regards
"Doin' fine, everbody!"
-Tre
You see? Straight from the horse's mouth, so to speak.
If you're new to this blog and too lazy to scroll down a few inches to my previous post, I'll update you on what has happened:
A few weeks ago, my psychotic neighbor decided to kick the living shit out of my beloved dog, Marx. He didn't kill him, but he messed him up bad enough to make my (equally psychotic) father take him to the vet, where he had him "put to sleep." For the next little while I was very depressed. Eventually I entertained the idea of getting a new dog, but, after checking out the pet store and kennel, I was unable to locate a suitable replacement. So I decided to switch gears altogether and get myself a pet snake. And as you have probably realized by now, I am a very opinionate person, so I got one without delay! A pet Boa Constrictor, I named Tre (after the lead singer of the legendary band Phish. You haven't heard them?! Then by all means, go and listen! I was fortunate enough to see them live twice, by the way!)
So anyway, Tre has proven to be a great snake. He's docile, affectionate (sort of), and quite small for a Boa. Yeah, yeah, I realize he'll get bigger, but I don't want him to. He's such a cute size right now.
In my last post I mentioned that I wasn't going to be feeding Tre meat. I'm sorry, but I simply can't bring myself to purchase dead mice and rats for him. I will not finance that kind of organized slaughter when there are other perfectly healthy options are available. Tre will be given a steady diet of tofu. He has already shown quite a liking for it, and has eaten two golf ball-sized chunks. For some bizarre fucking reason, the idiots who commented on my last post (yes, I'm looking in
your
direction, Liz!) think that a snake is an obligate carnivore and cannot survive on anything but the flesh of other animals. How wrong you are --- how WRONG you are!
First, a little lesson.
This
is tofu: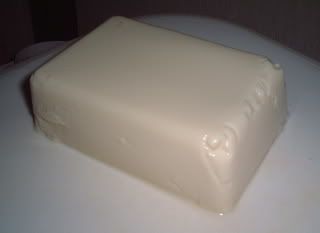 Mother of GOD, that looks delicious!
And now some real hard-hitting proof that pets love Tofu! The following pictures are of Mr. Hampster: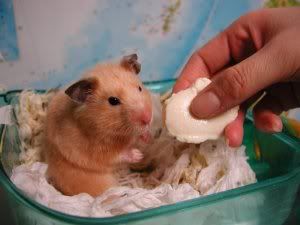 "What the fuck is that? It smells delicious!"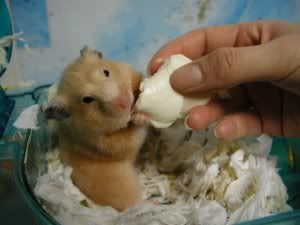 "Mmmm! It is delicious! NEVER feed me sunflower seeds again!"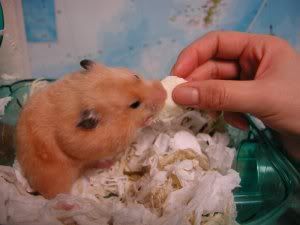 "Mfffm---fweed me mowuh!! MOWUH!!"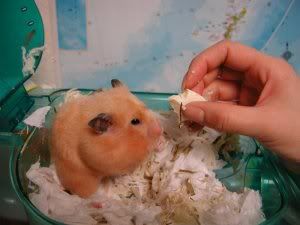 "If you ever stop feeding me this, I will kill you."
And there you have it. Conclusive proof that I am right. But who, aside from a few of you morons, was ever in doubt of me being right? I'm
always
right. What's that you say? That's not a snake, but a hampster? So? So far, Tre has shown me that he ALSO likes tofu!
Hell, if it's good enough for me and other vegans, why isn't it good enough for a snake? I don't eat meat and I'm perfectly healthy, and the same will be true for Tre! Aside from the tofu, you'll be happy to know that I've been giving him B-12 suppliments. He wouldn't eat the pills on his own, so I ground them up using a mortar and pestle, added water and then administered them with a slender turkey baster. Boom! A month's worth in one go!
And now a word to my supporters: thank you for stopping by and not judging me. I mean that from the bottom of my heart.
To my detractors: eat my fibrous shit! I mean that from my
bottom
.
- Preston out! (Muthafuckas!)
I
looovvvvvvvvvvve being right. WOOT!