Presssssssston's Back
Hey Everybody.
Sorry I haven't posted anything for such a long time. I wish I could tell you I've been doing some exciting stuff, but that would be a lie. I've been pretty bored lately. Depressed, actually. The Spring weather always seems to do that to me. I don't find winter to be as bad, because I kind of just hibernate, you know? But Spring is difficult to avoid. You don't really have an excuse to be a shut-in.
Spring is kind of like Christmas, in the sense that you're pretty much expected to be happy. 'Tis the season to be jolly, and all that. Says who!? Who says I have to be jolly? People's cheery moods aren't dictated by the calendar months. Well... a lot of people would like it if that were the case... but it's not true. Spring starts everything over like clockwork, and it doesn't care if you want to tag along or not. You're going, regardless.
Usually I come around, though. Once the market opens up, it really gets me back in to the swing of things. There are few spring and summer activities I like more than going to the market and buying all kinds of organic vegetables. The farmers there grow
the best
corn. Each golden kernel is just bursting with sweetness. Sometimes I feel like I'm tasting the sunshine it took to grow them, they're so good. Yeah, man. Corn really energizes me when I need energizing. I also love snow peas. I've made some great salads with those! I think they're the greenest of the green vegetables. The bursts of cool flavor they give taste like the essence of the green vegetable! Definitely a top shelf item in Nature's candy store. Artichokes... Asparagus... Bell Peppers... Man, I'm making myself hungry!
That reminds me, actually: I've got to feed my new pet
snake!
He's a Boa Constrictor, and he's around a foot and a half in length. I can never get him to stretch out straight enough to get an accurate measurement. His name is Tre.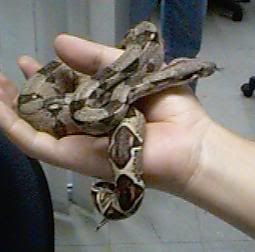 File Photo - Chosen for its similarity to my snake, Tre.
After Marx's death, I thought about getting another dog, but it just didn't seem right. I went to the pet store and the Humane Society to take a look at some, but they didn't look like
friends
to me -- they looked like
replacements
. I don't think any dog will ever be able to replace Marx.
But maybe a
snake
will! Tre's fucking awesome! I thought they wouldn't be able to show affection, but they really do! I was surprised. I keep Tre's aquarium next to my bed, and sometimes I'll take him out when I'm reading and just lay him on my chest. He likes to coil up right above my heart (I guess it's warm?) and enjoy the rise and fall of my breathing. Such a cute little guy.
I got a good deal on him, too. Some guy I work with raises snakes and I only had to pay him forty bucks for Tre. I look at it as a
rescue
, actually. The dude's got dozens of the things, which leads me to believe that he's neglecting them like crazy. Maybe "neglect" isn't the right word. He obviously tends to them enough to keep them alive, but if you have that many animals, you're not going to be able to share your love with all of them. The guy's so fucking cruel sometimes, too. He tells me how he feeds them meat! Eugh. He feeds a lot of them
live
mice! How fucking cruel and disgusting is that!? Luckily, Tre won't be subjected to that kind of injustice any longer, as he has taken to the tofu I've been feeding him very well.
My Dad was angry when I brought Tre home. I didn't tell him I'd be getting a snake. (Snakes freak him the hell out, by the way. Hmm. Maybe I subconsciously gravitated towards a pet snake, knowing that it would piss my Dad off?) Not that he'd have the balls to do anything, but I'm going to make sure he stays away from Tre. I'm getting a deadbolt for my bedroom door. It'll probably cost me an arm and a leg, since I'll have to hire a contractor to install it, but it'll be worth it in the long run. Total security!
Anyhow, I need to get to bed. Exams soon. Sleep... study... sleep...
Peace.
-Preston